Steps to Becoming an Empathy Circle Facilitator
The Empathy Circle practice is a simple and effective way to hold constructive empathic dialogue. The basic process is simple enough that most people can facilitate an 
Empathy Circle
after viewing the How To instructions and taking part in one.  While it is simple to get started, it can be a lifetime of deepening and building on the practice.


"An empathic way of being can be learned from empathic persons. Perhaps the most important statement of all is that the ability to be accurately empathic is something which can be developed by training."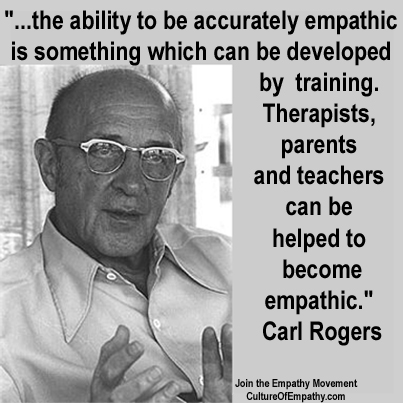 Here are some steps for learning to facilitate an Empathy Circle. The best way is to learn by doing. 



1. Review this Website and Read the Different Pages.
Familiarize yourself with the resources on this website.


2. View the Videos at, HOW TO EMPATHY CIRCLE?

These are the basic instructions for taking part in an Empathy Circle.
3. View Some Sample Empathy Circles

We have recording of many Empathy Circles. You can watch them to see how they work.
4. Take Part in Empathy Circles as a Participant: See the Calendar
The best way to learn to be a facilitator is to take part in an as many Empathy Circles as you can. Learn by doing.
5. View the Four Empathy Circle Facilitator Training Videos
You can view these training sessions. We will be scheduling more of these in person in the future, which you will be able to personally take part in. 
        Module 1  




We meet every week to give support to anyone that is working to facilitate. Share your experiences and get support and feedback.
7. Hold Empathy Circles
A. Reach out to two or three friends and invite them to take part in an Empathy Circle. 
Join this Facebook group for discussions, notices, updates, etc.

9. Keep Deepening your experience with Empathy Circles and show others how to become facilitators.
more to come....